Our Practice

Personal Injury Experienced Injury Law Firm Helping Victims Get The Compensation They Deserve
An accident can change your life in the blink of an eye. If you have been injured in an accident or someone you love has been killed due to the negligence of others, Koby Law, LLC can help you hold that party accountable for their actions. Our firm represents clients who have suffered injuries due to:
• Auto accidents
• Trucking accidents
• Motorcycle accidents
• Boating accidents
• Pedestrian accidents
• Slip and fall accidents
• Defective products
• Dog bites and animal attacks
• Medical negligence
• Farm accidents

If your injuries were caused by someoneís negligence, you may be entitled to receive compensation for past and future medical bills, lost wages, loss of earning capacity, property damage, pain and suffering, disability, disfigurement and emotional distress.
Koby Law, LLC has extensive experience litigating personal injury lawsuits, accumulating a lengthy record of successful settlements and jury verdicts for our clients. Let us put our knowledge and skill to work for you.

Personal Injuries Deserve Personal Attention
At Koby Law, LLC nothing is more important to us than our clients. From the moment you enter our office, you are treated with the dignity and respect you deserve. We work closely with clients to help them understand their options and ease their concerns about going to court. The legal process can be overwhelming, especially for those who are trying to recover from a serious injury. While you rest, Koby Law, LLC will work tirelessly to secure the best possible results in settlement proceedings or at trial.

When handling your case, we commit our time, energy and resources to helping you achieve victory. We perform extensive investigation into the background of your case, including interviewing eyewitnesses, visiting the accident scene and hiring experts in accident reconstruction, medicine and economics to provide testimony at trial. Our reputation alone is often enough to convince insurance companies to settle, but if your case proceeds to trial, you can rest assured that Koby Law, LLC can help you secure the compensation you deserve.

Knowledge. Integrity. Results.
If you need an experienced attorney to handle your case, call Koby Law, LLC today at 608-782-1800. Our office is conveniently located in downtown La Crosse.
---
OWI
Don't Let It Ruin Your Life
If arrested in Wisconsin for an OWI, depending on whether or not it's your first time, you could be facing fines, revocation and jail time. Additionally, once your insurance company discovers the conviction, your rates will sky rocket.

Attorney Koby has traveled nationwide representing individuals charged with an OWI.

Make no mistake Ė we are extremely aggressive. Do not hire Koby Law, LLC if you want an attorney to walk you into court and plead you guilty. Thatís not what we do. Hire Koby Law, LLC to aggressively fight the charges against you.

People mistakenly think that nothing can be done to defend against an OWI charge. Thatís incorrect. There are many challenges that can be made to your OWI arrest. These cases can be won, and in the vast majority of our clientís cases, we get positive results. We leave no stone unturned when defending our clients and we wonít stop fighting for you until you tell us to.

Attorney Koby is a renowned OWI trial attorney. Your case will be thoroughly assessed for all possible defenses; we know how and where to compel the state to provide the discovery needed to win. Although some cases resolve without a trial, we prepare our cases as if we are going to trial. This is why our law firm has such an excellent track record of success.

Our clients receive personal attention, support and a specific and well-designed defense strategy based on the unique circumstances surrounding the client's arrest. We bring all of our knowledge and experience to bear when defending our clients.
We pride ourselves on achieving the best results possible under the circumstances.

We understand that this case is about your life, your freedom, your family and employment. An OWI arrest does not equal conviction. These cases can be won.

Don't Let It Ruin Your Life!
---
Criminal Defense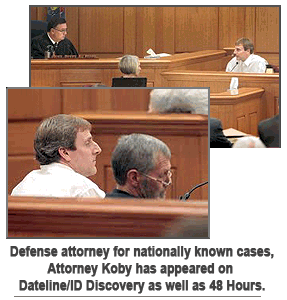 Skilled and Respected Criminal Defense Law Firm Wisconsin and Minnesota

If you have ever been arrested or are under investigation for a crime, choosing a lawyer could be the most important decision you ever make. At Koby Law we are committed to providing clients with an aggressive, thorough defense with professionalism and discretion. Criminal defense attorneys need to be experienced trial lawyers giving their clients keen insight into all aspects of any criminal litigation and assisting them in making the right choices for a successful defense of the crimes of which they are accused. We will provide you with a comprehensive, effective, vigorous defense in any criminal proceeding including those involving: White Collar Crimes, Violent Crimes, Serious Felonies, Drug Crimes, Homicide, Vehicular Homicide, OWI and Misdemeanors.

We are prepared to zealously defend our clients and protect their rights at every stage of the criminal process, from investigation through trial, in Wisconsin and Minnesota and across the country when necessary. We give you candid answers and explore all possible options for your defense.

With uncompromising resolve, James Koby, Koby Law, LLC has successfully defended the rights of numerous clients accused of committing serious crimes. We know this is an extremely difficult and stressful experience. Be assured, we will give you the answers and the support you will need to get through this process, and no one will work harder for you.
Koby Law, LLC • 201 Main Street, Suite 620 • La Crosse, Wisconsin 54601 • Phone: 608-782-1800